Bimodal Streaming with MED-EL
If you are a bimodal listener who wears a MED-EL SONNET series audio processor on one ear and a hearing aid on the other ear, then you can stream audio to both ears simultaneously! All you need is your MED-EL AudioStream, an ASHA-supported hearing aid, and a compatible Android smartphone!
Hearing aids from many of the major brands available in North America have already been successfully tested by MED-EL. This means you and your audiologist have increased flexibility to use whichever hearing aid is best suited for your individual needs. Click here to view our list of compatible smartphones and hearing aids, which is routinely updated as we confirm compatibility of additional devices.
How Does it Work?
Many smartphones with Android 12 or later support "Combined Audio Device Routing" which allows the phone to stream to multiple compatible audio devices at the same time. Compatible devices include the MED-EL AudioStream, as well as any hearing aid that supports the Audio Streaming for Hearing Aids (ASHA) Bluetooth protocol.
To set up bimodal streaming on your compatible Android phone, follow these basic steps: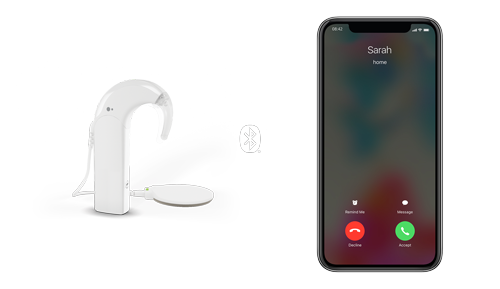 1
Configure
Configure and pair your AudioStream within the AudioKey 2 app. Be sure to assign it to the correct ear.
2
Pair
Pair your hearing aid within the phone's Bluetooth settings. Again, be sure to assign it to the correct ear.
3
Stream
Stream your favorite audio to both devices simultaneously!
Contact Us
Want to learn more about bimodal hearing with MED-EL? Fill out the form below. Our team of hearing professionals is ready to answer any questions you may have to help you decide what is right for you.
Are you already a MED-EL recipient?
To purchase AudioStream, visit the myMED-EL WebShop or register for the WebShop here.
To learn how to use your AudioStream, sign up for a MED-EL Monday event or virtual 1:1 appointment.
To ask more questions, fill out our form fill below.
---
Android is a trademark of Google LLC.
In addition, other Android devices with Android 10 or later with both Bluetooth® Low Energy (BLE) and Audio Streaming for Hearing Aids (ASHA) technology enabled by the phone manufacturer and service carrier may also be compatible with AudioStream.

The Bluetooth® word mark and logos are registered trademarks owned by the Bluetooth SIG, Inc. and any use of such marks by MED-EL is under license.